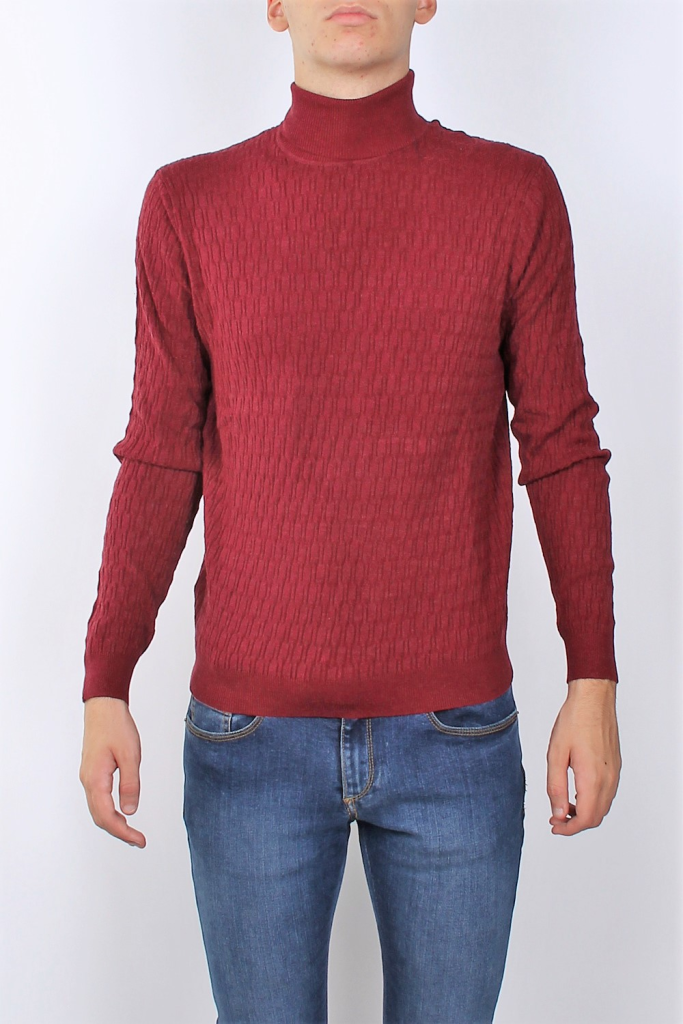 Men's high neck sweaters are a versatile and stylish wardrobe staple, perfect for adding warmth and sophistication to any outfit. While solid-colored sweaters are timeless and classic, incorporating patterns and prints into your high neck sweater collection can help elevate your style and make a bold fashion statement. From traditional patterns to modern prints, there is a wide range of options to choose from. In this article, we will explore must-have patterns and prints for men's high neck sweaters, providing you with inspiration and guidance on how to incorporate them into your wardrobe.
Fair Isle:
Fair Isle is a traditional knitting technique that originated in Scotland. It is characterized by intricate and colorful patterns, usually featuring geometric shapes and motifs. Fair Isle patterns are ideal for high neck sweaters, as they add visual interest without being overwhelming. These sweaters often feature a combination of rich, earthy tones or vibrant hues. Pair a Fair Isle high neck sweater with jeans or chinos for a cozy and winter-ready look.
Nordic:
Nordic patterns, inspired by Scandinavian traditions, are another popular choice for men's high neck sweaters. These patterns often feature bold and symmetrical designs, incorporating motifs such as snowflakes, reindeer, or trees. Nordic sweaters typically use a limited color palette, with shades of blue, white, and red being common. Embrace the winter aesthetic by pairing a Nordic high neck sweater with dark denim and suede boots.
Herringbone:
Herringbone is a classic pattern that adds a touch of elegance to men's high neck sweaters. It is characterized by its distinctive V-shaped pattern, resembling the bones of a herring fish. Herringbone sweaters often come in neutral colors such as gray, black, or navy, making them versatile and easy to style. Pair a herringbone high neck sweater with tailored trousers and a blazer for a refined and sophisticated look.
Argyle:
Argyle is a timeless pattern that originated in Scotland and is often associated with golf attire. It features a diamond-shaped pattern, usually in contrasting colors, with overlapping lines forming a checkerboard effect. Argyle high neck sweaters add a preppy and sophisticated touch to any outfit. Opt for a classic color combination like navy and burgundy or experiment with more vibrant colors to make a fashion-forward statement.
Checkered:
Checkered patterns, also known as gingham or tartan, are a stylish and versatile option for men's high neck sweaters. These patterns feature repeated squares in contrasting colors, creating a bold and eye-catching design. Checkered high neck sweaters can be found in various color combinations, allowing you to choose a style that suits your personal taste. Pair a checkered high neck sweater with dark-wash jeans and boots for a casual yet fashionable look.
Camouflage:
Camouflage prints have become increasingly popular in men's fashion, and they are no exception when it comes to high neck sweaters. Camo patterns add a rugged and edgy touch to your outfit, making a statement without being overpowering. Opt for a high neck sweater with subtle camo accents or go all out with a bold and vibrant camo print. Pair it with dark pants and boots for a modern and urban-inspired look.
Stripes:
Stripes are a classic pattern that can be incorporated into men's high neck sweaters to create a timeless and versatile look. From thin pinstripes to bold rugby stripes, there are various stripe designs to choose from. Horizontal stripes can add width, making them ideal for those with a slimmer build, while vertical stripes can create a lengthening effect. Pair a striped high neck sweater with neutral-colored pants for a clean and sophisticated look.
Geometric Prints:
Geometric prints offer a contemporary and modern twist to men's high neck sweaters. These prints feature abstract shapes and designs, often in a variety of colors. Geometric prints can range from minimalistic and subtle designs to bolder and more graphic patterns. Pair a geometric printed high neck sweater with dark jeans and sneakers for a stylish and fashion-forward look.
Animal Prints:
Animal prints have made a comeback in men's fashion, offering a bold and adventurous option for high neck sweaters. Leopard, zebra, or snake prints can add a touch of wildness to your outfit. If you're looking for a subtler approach, opt for a high neck sweater with animal print accents or details. Pair it with neutral-colored pants and boots to let the print be the focal point of your look.